COVID19: A SAFE RETURN TO THE WORKPLACE
Align your workplace with COVID-19 safety measures and prepare employees for their return with up-to-date information through online training.
Return to the workplace during Covid-19 with Online Training
The COVID-19 pandemic caused radical changes and disruption for organizations, employers, and employees. Any company that could, shifted their infrastructure from the physical workplace to a virtual one. Now, as many companies either begin or plan to return to the workplace, they are confronted with a challenging question: How do we prepare employees to safely return to a pandemic-adjusted workplace?
At Neil Hoosier & Associates, Inc. (NHA), we have created a course that answers that question.
NHA has decades of experience in creating educational courses very similar to the COVID-19 Return to Workplace Training. We have trained over 10,000 users on our Learning Management System and maintain over 500 Computer-Based Training courses.
This course complies with both Center for Disease Control (CDC) and Occupational Safety and Health Administration (OSHA) guidelines. Our talented instructional designers have made the course engaging and understandable for any user and all content has been created in conjunction with a certified epidemiologist.
While this course educates users in accordance with official guidelines, we understand your organization may prefer elements and modifications not already present in this course. NHA is willing and able to customize to your specific needs and make your vision a reality.
A Sample of the Course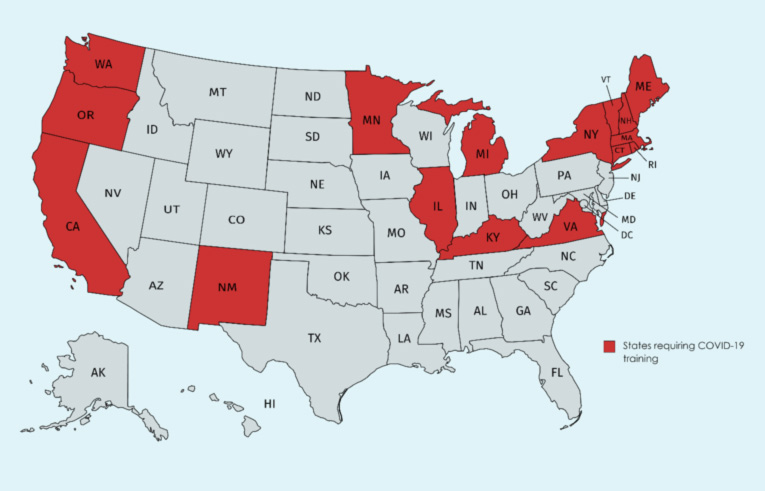 On January 21, 2021, President Joe Biden issued an executive order calling for increased protection and safety for American workers amid the COVID-19 pandemic and has tasked OSHA with submitting revised guidelines for workplace safety. Both the CDC and OSHA recommend that employers provide their employees with training on proper infection control procedures including how to prevent the spread of COVID-19, the symptoms of COVID-19, proper use of face coverings, hygiene etiquette, and workplace sanitation.
California, Connecticut, Illinois, Kentucky, Maine, Massachusetts, Michigan, Minnesota, New Hampshire, New Mexico, New York, Oregon, Rhode Island, Vermont, Virginia, and Washington have mandated that employers provide this training.
Features
The COVID-19: A Safe Return to the Workplace course has been designed to allow your organization to thoroughly educate your employees with ease. Features and benefits of the course include:
Engaging, Understandable, and Digestible
Our course is interactive and keeps the user engaged and responsive.
Our course is 508-compliant and ensures anyone and everyone can understand the content.
Our course is 20-minutes in length to maximize user knowledge retention and limit time wasted.
We have a team dedicated to resolving any potential issues users encounter. Our help desk will ensure individual issues are handled by us and not you.
The course is priced competitively and affordably to satisfy these safety requirements for your organization. We will walk you through any custom design choices and their associated costs upfront.
Fully Customizable Design
Whether you want to just tweak the course or rebuild it from the ground up, we will work to meet your requirements and goals.
Choose between your own or our Learning Management System for delivery of the course. Our trusted Learning Management System has delivered training for thousands of users. We are happy to focus on assigning, managing, and reporting the training so you can focus on your organization.
Frequently Asked Questions